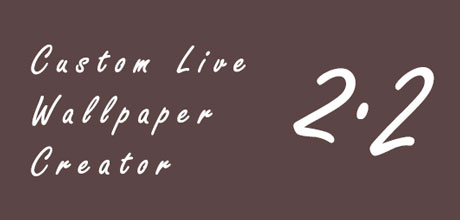 Ever wanted to create your very own Matrix Live Wallpaper? Well, now you can with CLWC 2.2.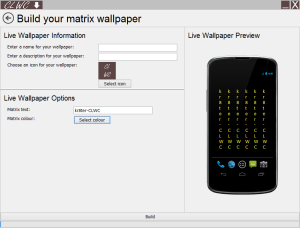 In CLWC 2.2, not only can you create your very own Matrix Live Wallpaper with your own text and choice of font colour, we have also made the following changes:
Fixed an issue with APK installation utility not installing APK files (we accidentally introduced this bug in version 2.1, sorry :()
Performance improvements - less RAM is consumed when building Live Wallpapers
Updated Android SDK to the latest version
Updated ANT library to the latest version
Java JDK/JRE is no longer a prerequisite, the internally bundled JDK/JRE is now used
Removed unneeded Live Wallpaper template files
Redesigned the About dialog which now displays social media links to Facebook and Google+, also it shows you if any updates are available
The Check for Updates option has been removed from the menu as it has now been merged with the new About dialog
So why not head on over to our Download page and get your hands on the latest version.
Finally, we would like to say thank you to everyone who tested version 2.2 and provided us with excellent feedback.