Another preview with some bug fixes, tweaks and an improved preview panel.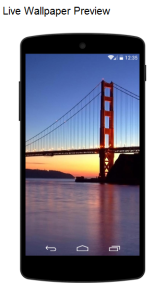 We've replaced the old Nexus 4 preview with a newer, bigger one, so now you can preview your Live Wallpaper's with much better clarity.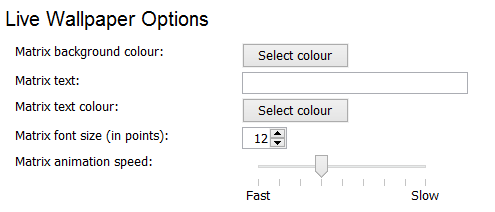 We've also added support for changing the Matrix animation speed, so you can customise it to your liking. Please note that a faster animation speed might make the Live Wallpaper use more battery.
We've also made the following changes:
Fixed bug where CLWC would let you create a Live Wallpaper without specifying its name.
Fixed bug with Animated GIF Live Wallpaper background options not working (Thank you eric for reporting this).
Attempt to fix an issue where a small number of users get the following error when trying to build a Live Wallpaper: "Error: Unable to find built APK file"
If anyone gets the error above or is unable to build a Live Wallpaper, then please send us the log file generated by CLWC to us so that we can analyse it and hopefully find a fix for this issue.
The log file will be placed in the folder you installed CLWC into, for example:
C:\Program Files\Custom Live Wallpaper Creator\build_log.txt
Please send this to us, support[at]customlivewallpapercreator.com
You can download CLWC 3.2 Preview 2 from here.
We look forward to hearing your feedback on this, and hopefully we can release this soon, if all goes well.