Only a few days have gone by since we released version 2.1, and yet here we are showcasing a preview of version 2.2, which we need your help with testing before we fully release it.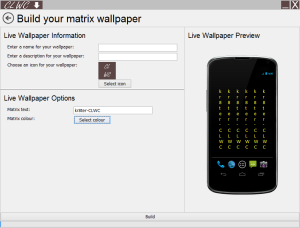 The most tangible change in this version is the ability to create your very own Matrix Live Wallpaper, with complete freedom over the text and the colour of the matrix.
We have also fixed a bug with the APK installation utility not working correctly (we accidentally introduced this bug in version 2.1, sorry :(), and we have made a few performance improvements, mostly with building the APK file which used up a lot of system RAM, now it only uses a tiny fraction.
Before we release it, we would like to ask you to help us test this, as we made significant changes to the underlying architecture of the program, so we need to make sure we haven't broken anything and that it works on a variety of different system configurations.
If you would like to help out, simply grab the preview version from here and then reply back to this post with your feedback. We will then review this and make any necessary changes.
Thank you.